To date, much has been written about Amazon's 3rd Annual "Prime Day" extravaganza/most expensive garage sale of the year. Doing a quick Google search will return hundreds of articles focusing on the best deals Prime members can expect on July 11, or even as early as 9pm ET on July 10. Amazon has made this insider guide available to help existing and new Prime members navigate the soon-to-be biggest sale of the year. In fact, Fortune reported a few days ago that Prime Day will likely have better deals than Black Friday. At the top of guide are the "must-do's" of Prime Day, and of course at the top of this to-do list is a link to start a 30-day free trial of Prime if a prospective shopper is not already a member.
And that's it - the consumer signs up for the free trial, is exposed to the wonders of Prime Day and all its glory and is hooked for the long haul as a Prime member. Why? Because Amazon has gone to great lengths to make Prime membership so extremely valuable, relevant and convenient for so many shoppers around the globe, that most will never consider looking back.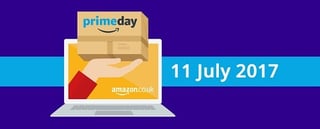 Without a doubt, Amazon will recruit thousands of members come Prime Day, and will fill many shoppers' hearts and homes, without emptying their wallets. This is what keeps so many retailers up at night. But, it doesn't have to! Consider this excerpt from the book "Be Like Amazon" written by New York Times bestselling authors, Jeffrey and Bryan Eisenberg:
"…It seems to me that [Amazon's] Customer Centricity, a Culture of Innovation and Continuous Optimization would be impossible to manage if you didn't have Corporate Agility. A company has got to be nimble and quick. The big fish aren't eating the small fish. The fast fish are eating the slow."
So often, too many retailers focus their time and efforts on trying to compete head-on with Amazon, instead of looking at how they can create a culture of innovation and agility that boosts cross-category purchases, generates additional sales and drives customer loyalty. The most successful retailer doesn't have to be the biggest fish in the pond to succeed. But, they do need to be faster than all the others and be willing to offer the most innovative, and personalised, store experience to their customers.
At Ecrebo, we have seen first-hand how innovative personalisation in the store – in the form of targeted offers and messages to customers– can drive long-term loyalty. Just ask our customer Waitrose. We are currently helping the grocery retailer to provide personalised marketing for their six million loyalty members. According to Waitrose's CRM marketing manager, "Ecrebo's technology has opened up a dynamic new marketing channel for in-store customer engagement that is incredibly agile, efficient, low cost and low maintenance. Most importantly, for our customers, it enables us to provide more of what they love in a really direct and personal way."
With our point of sale marketing platform, Ecrebo is allowing retailers to take advantage of being in the right place, at the right time for in-store shoppers. What are you doing to collect more data to personalise the shopping experience for customers?
Amazon is always focusing on the next big thing – it's only a matter of time before they make another "we are acquiring Whole Foods" -sized announcement. In the meantime, Prime Day will ultimately allow Amazon to collect yet more data and further enhance its already sophisticated recommendation engine.
But that's not what you should be focused on – there are so many more opportunities to innovate in today's retail environment. As Bryan Eisenberg told attendees at the recent Retail Touchpoints Innovators conference, "Amazon doesn't know the business you are in, but they'll try."
Where is innovation happening in your organisation?