There are several reasons we love shopping online; convenience, choice and the fact we can find whatever we're looking for quickly and easily. On the other hand, there are also reasons why so many of us still enjoy shopping in physical stores — touching and feeling products, the personalised service and the fact that many retailers are increasingly focusing on delivering the best possible customer experience. But are these two ways of shopping mutually exclusive?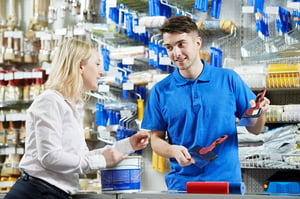 Physical retailers can learn a lot from their online counterparts, especially when it comes to delivering the same levels of choice and convenience. The challenge lies in bringing these elements into stores while maintaining the human touch. To achieve this, retailers should look at three key areas: technology, partnerships and experience.
#1 Embracing more technology
One of the stand-out features of shopping online is the seamless buying journey, from finding what you want, comparing it to other items and then making the purchase. Retailers can take this same sentiment and apply it in-store. For example, increase the use of tablets to empower sales staff, make them more mobile and even streamline the payment process. With this approach, retailers can reduce queues and deliver a better service to customers without interrupting the shopping experience.
In delivering more choice in-store, retailers should look to solutions like endless aisle technology. Used in conjunction with smart kiosks, shoppers can browse and select from the entire portfolio of products, not just those in stock. If items are out of stock or hard to find, shoppers can simply order them for delivery to home or a store.
#2 Fostering the right partnerships
The lure of online shopping is that you can find anything you need. Physical retailers can augment their own product assortment by collaborating with complementary brands to introduce different ranges into their stores. Aside from offering their customers more choice and additional reasons to visit their stores, retailers can optimise their investment in floorspace at the same time.
A prime example of this is fashion retailer Next which has incorporated concessions from well-known brands Lipsy, Clarks Kids, Paperchase and Costa within its Oxford Street store. The recent collaboration between Superdrug and Co-op is another great example of a complementary partnership. The grocery retailer has confirmed it will supply Superdrug's train station and airport branches with a range of food-to-go to, adding something new to Superdrug's offering, whilst increasing the accessibility of Co-op's own-brand products.
#3 Giving shoppers a reason to visit the store
Online retailers are incredibly successful at getting shoppers to their websites, whether that's through flash sales, the promise of a bargain, one-day delivery or the endless choice of items on offer. Physical retailers need to follow this same vein; giving shoppers a reason to visit and make the in-store experience as seamless and satisfying as possible.
One of the tactics they can use is experiential marketing or "shoppertainment". By adding value to the experience and offering customers something more, retailers can attract shoppers and keep them in-store longer.
This can range from initiatives such as bookstores offering wine and cheese events, to larger-scale changes such as those used by fashion retailer Primark.
The brand's new flagship store in Birmingham offers shoppers five floors of fashion, homeware, accessories and more. The new store includes much of its standard range of products, but also offers more "experiential" elements. Shoppers can use the store's free Wi-Fi and charging stations, have their hair cut at the Mills x Primark barber shop or get their nails done at Duck & Dry Xpress, and choose from a number of different restaurants including a Disney Café.
Initiatives like this seem to be working for Primark: the retailer recently reported a 25% increase in half-year profits.
Achieving a balance
There are lessons bricks-and-mortar retailers can learn from their online counterparts. While there are distinct differences between the two approaches, there are elements such as customer experience and convenience that do overlap. But it's not enough to just observe these lessons; retailers need the means to implement these learnings and integrate them into their wider strategies to ensure they remain competitive, relevant and a destination of choice for shoppers.