Michael Poyser, Ecrebo's Chief Analytics Officer, shared his views on the Christmas trends he expects to see in UK supermarkets this year, with The Grocer.

Although all of the big four supermarkets reported growth over the festive period, this "doesn't mean supermarkets can be complacent, especially not in such a competitive industry" explains Poyser. "As all retailers know, like-for-like sales are the lifeblood of retailing. Grocery retailers are all looking to boost sales growth over the crucial Christmas trading season, and being able to build upon last year's performance is key to success."

When asked how retailers plan to tackle the challenges of Christmas 2018, Poyser suggests they should do this by "analysing – in detail - the data from previous Christmas periods. This analysis should be based not just on units and volumes sold, but also understanding exactly how customers shopped. For example, which customers shopped across different categories? Who were the early adopters of the brand's new Christmas lines? And who came back to buy them again?"

"All of these insights are key to understanding what did or didn't work well, enabling retailers to replicate any successes this festive period, and to identify the "turkeys" to avoid repeating this year."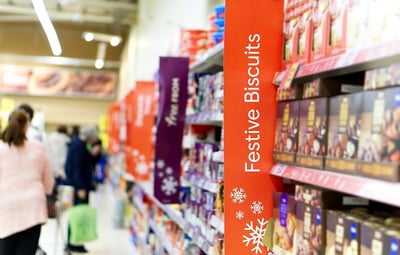 To drive sales further this festive season, "digital and paper coupons will form an important part of encouraging customers to buy specific products and to return to store for their next visit ahead of Christmas" he says. "Shoppers will naturally increase their purchase frequency greatly at Christmas, particularly during the four-week run-up to Christmas, so being able to put an offer in the hands of a customer at the checkout to bring them back in will be a key differentiator for several retailers."

Of course, "attracting customers into stores is just the first part of the journey" he cautions. "Once shoppers are in store, they need to be engaged, and offered a seamless and frictionless experience. For retailers, this means providing excellence in execution across all areas of category management, with particular focus on availability and merchandising, particularly important over the Christmas trading period."

Read the full article in The Grocer here (subscription required): Which supermarket has the best Christmas countdown strategy?