It's always a fantastic feeling when the work you do is recognised by the wider industry, which is why we are particularly thrilled to have won the Retail Partnership of the Year (in store) Award with our customer, Waitrose, at this year's Retail Systems Awards. I'm delighted that the team from Waitrose was able to join us at the awards evening and share in the celebrations.
As one of the founders of Ecrebo, this kind of industry recognition means a lot to a business like ours and this is an immensely proud moment for us all. We were up against some really tough competition in this category, so we're over the moon that we took home the award with Waitrose.
Our partnership with Waitrose has gone from strength to strength over the years and we're all really proud of the relationship that we've developed with the team. It was only earlier in the year that we announced that Waitrose had signed a five-year agreement with Ecrebo — a rarity for a retail organisation to sign such a lengthy contract with any tech vendor in this competitive and evolving modern environment. As we look forward to the next five years of growth for both companies, I can only look back at the first few to know that this is a real, true partnership that is set to do great things.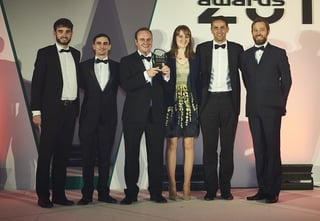 Held this year at the London Marriott Hotel in Grosvenor Square, the annual Retail Systems Awards is one of the most prestigious ceremonies in the annual retail technology calendar. The awards recognise technology excellence and innovation within the retail sector, while shining a light on providers who are leading the way in areas including mobile, online, payments, loyalty and personalisation.
It was a truly special evening, so congratulations go out to the rest of the finalists and Retail Systems Awards winners.