We've been talking about the future of retail for quite some time now; trying to understand what the next two, five, or 10 years will look like and how the technology we're using will support that vision. While the media alternates between reporting on the death and resurgence of the high street, the influence of e-commerce and loyalty will continue to shape discussions going forward. The truth is, when it comes to the future of the retail industry, the topic at the centre of everything, the one constant, is the customer. The store of the future, then, will be built (both physically and virtually) around the customer.
Exploring this changing landscape is a key consideration for all of us in retail and with that in mind, we wanted to hear what experts in the industry had to say. So, on 15 March 2018, we co-hosted a lunchtime roundtable event in London in front of an audience of senior retail executives, featuring keynote speakers including industry legend Sir Keith Mills and Forrester retail analyst, George Lawrie.
The focus? The technology revolution that will enable the future of retail.
The event began with a fascinating discussion about the past, present and future of loyalty by well-known entrepreneur Sir Keith Mills, founder of the Air Miles and Nectar loyalty schemes. The key takeaway from his talk was that in the store of the future, customer service will continue to play a major part, regardless of the technology involved.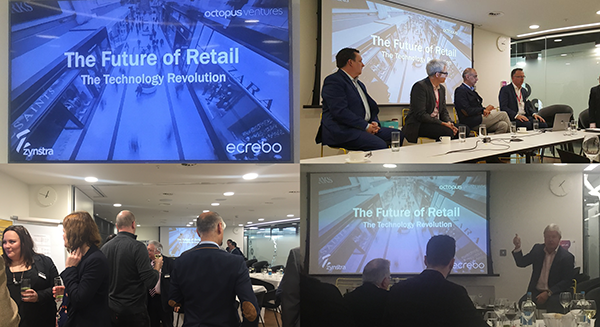 This was followed by George Lawrie, whose session focused on future trends, and the intersection between retail and technology, and the empowered customer.
We finished the event with a panel discussion featuring Paul Bosher, Global Head of Consumer Insight from Walgreens Boots Alliance; Nick East, CEO of Zynstra; Atul Bhardwarj, former Group CIO of Tesco; and myself.
We debated a number of crucial issues, including how to make the customer experience better, the importance of C-suite collaboration in loyalty, the correlation between loyalty and experience, and how retailers need to perfect the seamless, frictionless shopping experience across all channels. There were some fascinating insights and I'm sure we could have continued the debating late into the evening.
So what then is the future of retail? At this point there are far more questions than answers — how do we deliver exceptional customer experiences; does our technology support us; is our loyalty scheme as streamlined and effective as possible? But what did come through clearly in all our discussions was the importance of the customer, retaining the personal touch in the retail experience, and the need for the right technology underpinning all efforts. All definitely topics that will no doubt help frame the future of retail.