Online sales now account for almost 20% of all retail sales. According to Deloitte, that figure grew at ten times the rate of store sales during the first half of 2018. This may well be a contributing factor to the challenges faced by the retail fashion industry, but for every store closure, there are stories of reinvention and investment in the high street.

Add to this the fact that the online fashion shopping experience can often be one of frustration and disappointment - think ill-fitting clothes, wrong shades and the hassle of returns. But many shoppers embrace store shopping and perceive it as a social activity. If retailers can add to this by offering improved customer experiences and services, then the fashion store has a great future.

One way to achieve this is through technology. Deloitte advises using three themes: be more than a store; use digital as a key part of the store experience; and replicate the online experience within your physical retail outlet.

Kate Hardcastle MBE, also addressed these same themes at the recent TechStyle Event, a two-day pop-up store in London that showcased the latest innovations in retail tech to fashion retailers. She advocated the message that technology 'can maximise joy and minimise customer frustration'. The only caveat is that the technology must be easy for consumers to understand and appreciate.

The technology already exists to help retail outlets reduce customer wait times, promote more engaging customer interactions and provide a relevant and exiting experience for shoppers. One example is Nordstrom's Manhattan Men's Store which lets shoppers select the items they would like to try on via a mobile app, order a coffee, and when they arrive in store, their changing room is arranged with the clothes and refreshments they've requested.

Consumers should expect to see a more interactive use of the shop floor in the future. Some key technology which we're likely to see more of involves RFID and smart mirrors, which enable shoppers to control their shopping experience by allowing them to select what they like in store and then link to full product information digitally. They may also want to interact with a social wall to see what other shoppers are saying about their chosen item online. Then, if they like what they see, they can select the product and then enter the changing room, either to try it on, or to use the smart mirror to visualise it digitally. And because the shop assistant can also access this information, they become a trusted adviser.

Burberry has truly embraced these technological innovations in its London Regent Street flagship store. The 44,000 square foot space has screens which push content, RFID technology to trigger relevant media content and mirrors which transform into screens with runway footage and exclusive video clips.

Consumers could be forgiven for thinking that the retail fashion store has seen its day, but this is not the case. The high street needs to evolve, and fashion retailers are leading the way – with technology driving fashion forward. The atmosphere and attitudes we experienced at TechStyle were certainly forward thinking, using technology to drive new opportunities for retail. Indeed, the high street is heading for a resurgence.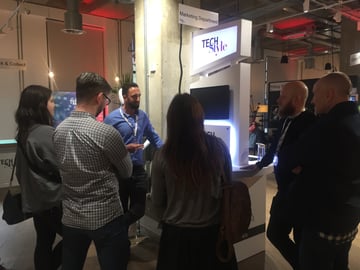 TechStyle was hosted by Diebold Nixdorf at Hogarth House, Holborn, London on 6 and 7 November 2018. Attendees were able to experience the latest innovations in the fashion retail business as well as attend speaker sessions with partners including Ecrebo, Tyco Retail Solutions, Zebra, Pyramid and Doodle.