Last week, we announced a five-year partnership with Waitrose to continue delivering targeted customer engagement to their in-store customers through our 'Message at Till' solution. I think this is a great opportunity to explore why this partnership is so effective for Waitrose, and the potential that similar partnerships might have for other retailers.
Personalised, real-time offers
Waitrose first trialled our "Message at Till" solution in 2015 and subsequently rolled the service out to all 350 of their stores, thereby opening a dynamic new marketing channel for in-store customer engagement. They can now use the insights provided from the myWaitrose loyalty scheme to truly 'know' each individual customer, and reward those customers with relevant offers and messages based on previous purchases or the items in their shopping basket on a specific shopping trip.
I think we can all agree, getting a special offer is great. But offers that are catered exactly to you, based on your actual purchasing tendencies and preferences, mean a lot more. Combine this with value-added services like product or recipe suggestions, discounted offers for those items, even free products, and customers are likely to see your brand as a true partner in their shopping experience, not just the source of their produce.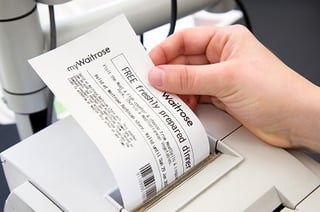 In essence, Waitrose has found that the benefits for customer engagement, trust and loyalty go far beyond what traditional discounting and couponing can do. Any time a retailer can provide a shopper with more of what they love, in a really direct and personal way, in real-time, they're onto something that will have significant positive impact for their customers, and for their business. It's the unique combination of reach, relevance and timeliness provided that really unlocks the value in this equation.
Recruitment Tool
Even better, the fact that being a loyalty member grants access to these personalised services means more shoppers are likely to sign up for the myWaitrose loyalty scheme in the first place. It's a glorious, dually beneficial system for shoppers and retailers alike, that works better for both parties the more it grows.
If you're struggling with recruitment for your own loyalty programme, consider the benefits that personalised offers have in the mind of your desired consumers.
The Power of Targeted Offers and Messages
Personalised offers and messages also enable a retailer like Waitrose to be creative, going beyond "buy one, get one free" and entering a more fun world where free birthday cupcakes and customised recipe suggestions exist. By printing these messages right alongside the paper receipt, the customer is incentivised to come back to Waitrose for their next grocery shop, as they start imagining the benefits of the next trip before even leaving the store.
IT-Friendly
A massive roadblock for many technology solutions at any retailer is the potential impact on existing IT infrastructure – interfering with the POS, fears of security breaches, slow deployment times, burdensome updates and constant maintenance. These can derail even the wisest business decision if not addressed up front with the IT team.
Waitrose has proven the Ecrebo system to be incredibly light touch, agile, efficient, low cost and low maintenance. Even better, the IT team never has to worry about it, as Waitrose manages the programme directly through its CRM team. If you're looking at complex and investment-heavy solutions to deliver personalised campaigns to your shoppers, you need to stop. It doesn't have to be that way, and your CIO will thank you for it.
Conclusion
Waitrose has been able to achieve a lot in a short time by investing in Ecrebo's OnPoint Coupon technology, which Waitrose refer to as "Message at Till". And the proof is in the pudding; it is a rarity for a retail organisation to sign a lengthy contract with any tech vendor in this competitive and evolving modern environment, but their conviction in this union is strong, and we're thrilled to get to work on delivering even better results for them, and any other retailer, for many years to come.