The retail landscape is a brutal one. As the market becomes more saturated and e-commerce continues its domination, it's becoming even harder for retailers to know how to keep customers coming back for more.
Although many traditional retailers have also expanded into the digital space, they are constantly searching for tools and tactics that will bring shoppers back to the high street, and into their stores. It's a complex road to navigate - attracting new customers, keeping existing ones happy and improving the customer experience, all while trying to grow profits and market share. Technology plays a huge role in helping retailers meet these objectives, as does innovation. But it's not just the shiny new tools that are having an impact. Old favourites like the coupon are staging a comeback.
Historically, the coupon's primary role was to notify shoppers of a discount. However, its role has expanded over the last few years. They are more powerful now than ever and can be used to great effect to promote new products, stretch your customers' spend on their next visit, encourage loyalty membership sign-up, trial free products, promote marketing messages right down to store level, and much more. It's all down to the individual retailer and how creative they want to get, their priorities at that time and the behaviour they want to drive from their customer.
Coupons are hugely popular in the US, so much so that couponing has almost transformed into its own culture – shows like Extreme Couponing have showcased how certain shoppers will stockpile coupons just to see how much money they can save. According to Statista, 307 billion coupons were distributed across the country in 2016, and while the UK isn't quite there yet, coupons are growing in popularity.
The power of the coupon in today's UK retail environment was highlighted in Ecrebo's own consumer research, which found that 76% of shoppers said coupons change the way they shop. Additionally, 40% said they expect to receive coupons when they're shopping, and 32% said they sometimes don't make a purchase without one.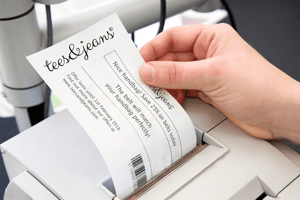 So, what makes this humble piece of paper (or set of 1s and 0s) so appealing?
For customers, it all boils down to a few elements: personalisation and relevance, simplicity of message and ease of redemption.
Personalisation and Relevance
Shoppers are savvier than ever before, and they have more choice than ever before, so they want something that is relevant to them — like an offer based on something in their basket or one that's based on their purchase history.
Simplicity of Message
When it comes to simplicity of message, consumers are continuously bombarded with communication, from email and smartphone notifications, to online advertising and social media, so it's difficult for retailers to stand out amongst all the 'noise'. But as soon as they receive a coupon that's handed to them personally at the checkout in-store, it's obvious what the offer is, and when it needs to be used – simple. And it's great for customer engagement too.
Ease of Redemption
There's nothing complicated about finishing your shopping trip and handing over the coupon at the till (or entering a promo code online). It's immediate, easy and totally frictionless, making the customer feel valued.
On the flip side, for the retailer, it's about having the underlying technology to ensure they're able to deliver these targeted coupons (either physically or electronically) to the right shoppers at the right time. The point of sale is the ideal place to do this; data is gathered on what's in the customer's basket, or combined with the insight from their loyalty card, or purchase history, fed into software that crunches that information and returns a relevant offer instantaneously. And the beauty of it is that this could be a suggestion for a new or complementary product, a discount on a frequently bought item, or even a message advertising an event or seasonal promotion.
Of course, the coupon also forms part of a wider loyalty strategy. Its versatility, popularity and functionality make it the perfect point of sale marketing tool to help those loyalty efforts. Importantly though, in such a dynamic market, retailers need to ensure that the coupon continues to evolve in line with customer expectations.