Shopping online is easy. That's one of the reasons so many of us do it. However, it's not always quite as straight forward when it comes to sending items back if we change our minds. Even though an increasing number of retailers offer free returns, many of us would rather buy online and then return items to a physical store. It's become so popular, there's even an acronym for it – BORIS (buy online return in store).
Regardless of whether shoppers send their unwanted items back by post or in-store, returns can be problematic for UK retailers, with research reporting they can cost up to £60 billion a year. Whether those costs relate to the supply chain, an inability to resell the items or simply the overall devaluation of the products, returns impact the bottom line, and can be even more damaging for pureplay retailers.
The returns opportunity
Interestingly, it's actually cheaper for retailers to process returns in-store, which is often a contributing factor for ecommerce retailers opening up bricks-and-mortar stores. It's also one of the ways that omnichannel retailers are enjoying a form of competitive advantage over their online counterparts.
But, as more and more of us shop online, the number of items being returned has increased. And with a marked rise in serial returners, it's becoming a bigger issue for many brands. Asos, the online fashion retailer, has even taken a stance against serial returners, threatening to deactivate customer accounts if they notice any suspect activity.
As any retailer will know, returns are expensive, but shoppers aren't going to stop returning items any time soon. And with our high streets struggling, bricks-and-mortar retailers are finding it harder than ever to get people through their doors. This is where returns can play a surprising role.
Taking advantage of unplanned purchases
Offering customers the chance to return their unwanted goods to physical stores actually provides retailers with an opportunity to engage with shoppers. They're right there in the store, so why not use the opportunity to incentivise them to make a purchase at the same time as their return? Or offer them something that will entice them to come back in future?
As an example, once store staff process each return, they hand shoppers a coupon to use inside the store, encouraging them to spend money while they're there, taking advantage of impulse purchases, or by offering them a reason to come back in future.
This could be an offer for a free coffee in the in-store cafe, a free make-up consultation, or an in-house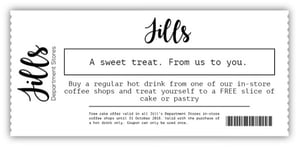 service such as personal shopping, all designed to make the shopping experience better, keep customers in store for longer, and encourage return visits.
It's a similar proposition to click and collect. When Doddle ran a click and collect trial with Debenhams in 2018, they found that almost a third of shoppers subsequently went on to make a purchase in-store. And of those customers, 40% who made a purchase had never shopped in Debenhams before, opening up a powerful new channel.
Much as online shopping has impacted on shopping in physical stores, returns do offer yet another opportunity. Kohl's, the American department store chain, is now accepting Amazon returns at all of its 1,158 locations following a successful pilot. The retailer has struggled to drive foot traffic to its stores but giving Amazon customers the chance to return their unwanted items to Kohl's stores, has increased footfall.
The future of returns
While many retailers see returns as a negative, I believe they can be transformed into an opportunity. In-store returns are cheaper than the online equivalent, can help boost customer engagement and provide an additional revenue stream.
By having access to returns data, as well as the ability to process it instantaneously, retailers can capitalise on the fact they have shoppers in-store. Key to maximising this opportunity is using customer data to provide shoppers with relevant offers and promotions that not only encourage them to spend time in-store after they've finished returning an item, but keep them coming back.