Earlier this year, I was thrilled to attend Shoptalk 2017 in Las Vegas, one of the most talked-about, must-attend new conferences developed for the retail industry. So, I was not surprised in the least that last week's first-ever Shoptalk Europe event was equally as successful. The Ecrebo team and I were extremely excited to attend this event, and it did not disappoint. With more than 225 leading industry speakers and 2,300 industry attendees, the event sold out the week before the show - what a fantastic achievement!
Launched in 2016 by the founders of Money 20/20, Shoptalk has quickly developed a reputation as the new "blockbuster retail and ecommerce event", exploring the rapid evolution of how consumers discover, shop and buy. If you haven't heard of Shoptalk before, you will soon. It's quite different from other retail events you may have attended. Yes, there are exhibitor stands and there's a conference, but it's the collaborative nature of the event that really sets the event apart from others in the same space.
As Shoptalk founder and CEO Anil Aggarwal, explained, the event's goal is to "help you answer the hard questions." There was an abundance of high-profile speakers from established retail players including Tesco, Hudson's Bay, Harrods, Ikea and Pizza Hut. But they also made sure to give equal spotlight time to several start-up companies, so we got to hear from a real mix of organisations, large and small, experienced and agile.
There were a few key themes that emerged from the event, with retailers increasingly focusing on customer-centric, personalised experiences, all of which resonate with us here at Ecrebo. We recognise that it's shoppers who are in control now and retailers need to deliver more personalised experiences to enable them to break through the noise and the competition. One of the best ways to achieve this is to take advantage of physical stores, reward the loyal customers who shop in them, and make sure you let them know they're being rewarded.
I am pleased to say that Ecrebo was invited to present at the "Emerging Technologies Spotlight" session where our founder, David Vernon, took the stage in the 'Acquiring and Retaining Customers' track. David talked attendees through the foundations of Ecrebo, the importance of the physical store, and how retailers will need to adapt for the next generation of loyalty. He also announced some exciting news about our new customer engagement hub which will be coming in November. Watch this space for updates!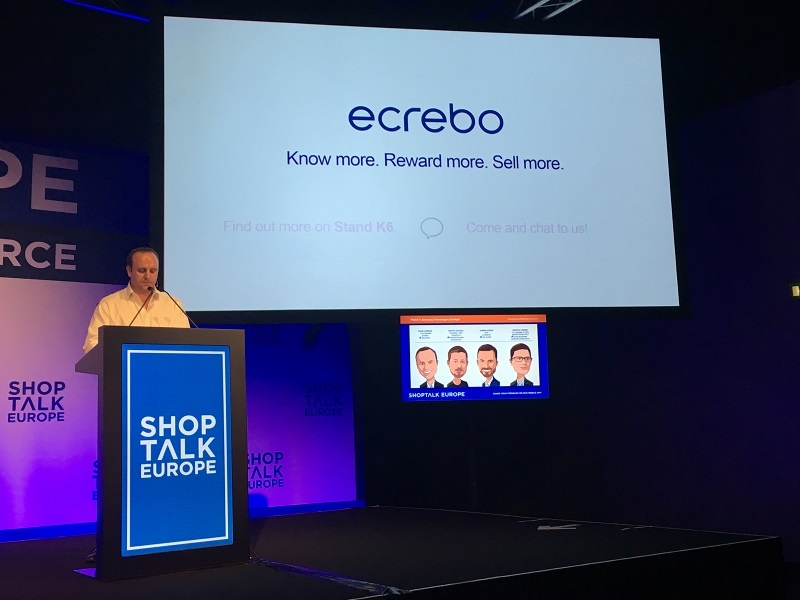 We had some great conversations with retailers and partners across Europe and beyond. Although retail is changing almost on a daily basis and is clouded with some uncertainty, there is still so much optimism about the future. For me, this was really encouraging to hear.
Retail as we know it today, is all about innovation. Shoptalk has made it a point to be at the forefront of that future of retail – one that puts a priority on putting the customer experience first. The themes from this year's event were right on target for those of us in the know, and we look forward to seeing what next year's Shoptalk events have in store!