It was fantastic to have attended and spoken at the 2017 Tech. conference powered by Retail Week, the biggest festival of innovation in retail technology. With more than 300 companies and 120 speakers over the course of the two days, the event hosted some of the most influential thinkers, entrepreneurs, investors and practitioners who are shaping the future of retail.
I was honoured to have the opportunity to speak at the event, with my session taking the form of an interview with prominent loyalty luminary, Sir Keith Mills. The Air Miles and Nectar founder, and Ecrebo investor, talked us through the ideas behind the ground-breaking Air Miles and Nectar loyalty programmes, before turning to look at the state of loyalty today and where it might be headed in the future.
Revolutionising Loyalty with Air Miles and Nectar
We began by discussing Air Miles, which was launched in the 1980s, when technology was more primitive than it is today. Back then, airlines had no way of capturing customer data which meant they simply had no idea who their customers were, or how profitable they were. However, by introducing a scheme that involved customers registering themselves and making themselves known, airlines were suddenly able to gain greater insight into who their loyal customers were, and could reward them accordingly. In those days, rewards were issued as physical paper currency, so while a ground-breaking idea at the time, technology restraints meant it was difficult to achieve scale.
Conversation then moved on to Nectar, which launched in 2002, at a time when the industry saw an explosion in standalone loyalty programmes. What made Nectar different from other schemes was that it was a coalition programme, bringing together brands including BP, Barclays, Debenhams and Sainsbury's. It proved incredibly popular, and meant that consumers could sign up to a single scheme and earn points from different retailers, accumulating value much faster than any standalone scheme. Nectar grew rapidly and represented a step change for many retailers in terms of the value and opportunity that this volume of customer data presented.
Loyalty Programmes Today
Bringing things up to the present day, Sir Keith sees a 'cluttered marketplace' where consumers are bombarded with loyalty schemes performing with varying degrees of success. Many of the loyalty programmes that existed in the early 2000s are beginning to lose relevance and some are struggling because they reward everyone with the same currency. Sir Keith believes that retailers need to look at ways in which they can reward their customers more effectively, and beyond just points alone to make them more relevant to today's consumers.
Sir Keith explained how many retailers are trying to revive the shopping experiences of the 1950s and earlier, when shopkeepers used to know their customers and what they were looking for. He highlighted that this is what Amazon does really well because of the wealth of data they have built up on their customers.
Increasingly, brick and mortar retailers are increasingly under threat from the likes of Amazon who know precisely who their customers are, and what they're buying, and transact with them instantly at the point of purchase. This is where retailers with physical stores have struggled, but can use their loyalty mechanisms more effectively to compete.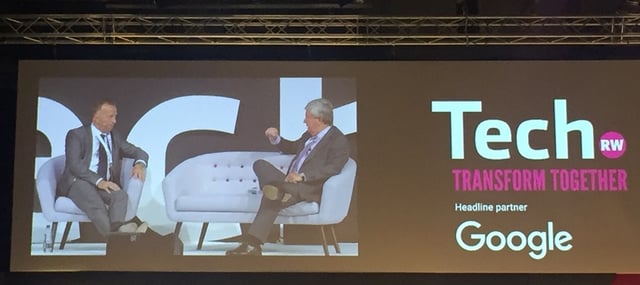 Brick and Mortar Well Poised for Future
Sir Keith saved some particularly encouraging words for brick and mortar stores, confident that they are in a stronger position now than they have been for many years. Physical stores have a local presence and a stake in the community, and if retailers can use this to their advantage while combining it with nimble, future-proofed technology, they will be able to win over customers by interacting with them at the point of sale just like they do online. On the flip side, if physical retailers cannot succeed in communicating with their shoppers in offline environments, they will quickly lose ground. Those retailers who will win will be the ones that know and understand their customers intimately.
Bringing Lessons Back to Work
We hear all the time that loyalty paradigms are shifting. But hearing their evolution put into the context of the last few decades was truly enlightening. It proves that although so many retailers and business leaders know that change is needed, it takes a culture of innovation and the relevant, available technology to implement change. I was thrilled to have the chance to pick Sir Keith's brain about retail loyalty, and can't wait to take my inspiration back to Ecrebo where we can do our part to make the new era of loyalty a reality for retailers, today.