Ask the Expert: A Q&A with Michael Poyser, our Chief Analytics Officer [and data guru]
We all know that data plays a huge role within retail. But when it comes to taking advantage of seasonal trends, this role can be greater than you think. With the launch of our latest guide - All four seasons in one day: A retail CMO's guide to capitalising on seasonal trends and using data to shape the customer journey - we caught up with Michael to get his views on data, seasonality and making the most of retail marketing campaigns and customer insights.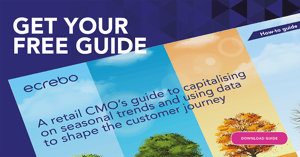 Q: What's more valuable for retailers — historical or real-time data?
A: That's an interesting question. Both historical and real-time data are hugely valuable for retailers, and each yields different insights. But the real value comes from using both sets of data to generate truly powerful insights. Historical data helps you build up that longer-term view of customer behaviour that helps you make decisions around marketing campaigns, stock levels and even store layout. Real-time data from the POS, on the other hand, helps you be more agile and enables you to act on events quickly, such as an offer on scarves during an unexpected cold snap, or offering a promotion on salsa and crisps during barbecue season.

Q: How can retailers be more flexible with offers and redemption windows to optimise the results of seasonal campaigns?
A: We've all received a coupon or offer that we've forgotten about and by the time we're ready to use it, it's expired. While everything needs an expiry date, retailers can actually use redemption windows to their advantage. Think about longer-term campaigns around big seasonal events, like Christmas. Instead of extending offers to customers that last until Christmas, you can extend the journey into a series of four or five offers, each one triggering the next. The offers will be based on what you know about the customer and their shopping and spending habits, which ensures they are relevant and personalised. In fact, this is something that I talk about in my recent blog, powering the potency of real-time data.

Q: How can seasonal data help retailers capitalise on the momentum of campaigns?
A: There are a wealth of insights that can be gained from seasonal data, especially around shopper buying behaviour, spend and frequency of visits. Now, you can use this to ensure your campaigns add more value to the business. Consider this example: a particular customer ramps up their spending on meat in the lead-up to Christmas, which isn't really a surprise. But if this same customer then stops buying meat altogether, you could make the assumption they are trying to be healthier, or maybe one of their New Year's resolutions is to follow a vegetarian diet. Either way, you can use this data to tailor offers that appeal to their current needs and preferences; giving them offers on fresh fruit and vegetables or promoting alternative products like meat-free sausages.

Q: What about opportunities to cross-sell or to promote complementary products?
A: This ties back to what I mentioned earlier; not only can seasonal data be used to gain insights into what consumers are buying but also importantly, what they are not buying. Either way, retailers can use these insights to build up a detailed understanding of what a specific customer buys, how frequently and how much they spend. This is a great starting point to be able to personalise offers and messaging specifically for that customer, and introduce them to new products, or even complementary brands. For example, if customer A buys strawberry yogurt each week regardless of season or campaign, you can personalise offers around different brands of strawberry yogurt, different products produced by the same brand, or even complementary products such as smoothies or granola.

Q: What role can the point of sale play in the success of seasonal campaigns?
A: From my perspective, the point of sale plays a critical role in the success of seasonal campaigns. The POS is essentially at the frontline of retail; it captures transaction data in real-time giving retailers insights into what shoppers buy, how much they spend and how frequently they come into store. With the right software, such as our OnPoint platform, retailers can capture, analyse and store this data and use it to inform and influence marketing campaigns.

Firstly, they can use it immediately after a transaction to deliver a personalised promotion or message to the customer based on what's in the basket via a paper coupon. Secondly, they can start building that long-term view of the customer and continue to deliver targeted and relevant offers to them each time they come into store, boosting sales and driving long-term loyalty.


---
About Michael Poyser


As our Chief Analytics Officer, Michael helps Ecrebo customers better utilise

real-time data to generate impactful and actionable customer insights. With more than 20 years of experience working in customer and loyalty analytics, Michael has previously worked for Aimia and dunnhumby.