Amazon and Walmart are in the middle of a heavyweight fight for the ages, taking their best swing at each other with each new acquisition, process improvement and efficiency innovation. The most recent punch, thrown by Amazon, was a true haymaker. Its acquisition of Whole Foods – once made official – will do more to address its biggest weaknesses and set it up for a knockout than any other move in recent memory.
Amazon's two greatest weaknesses, in comparison to Walmart, are its lack of physical stores and its lack of clout in the grocery market. Its dominance in online retail is unquestioned, but Walmart is the biggest in-store retailer in the US, along with being the biggest grocer. To become the best, you've got to beat the best, and Amazon is coming straight for Walmart's jugular with this move.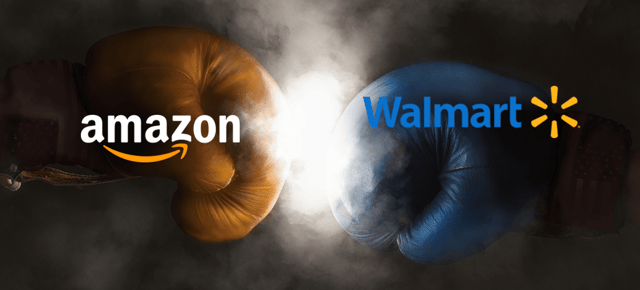 First, the power of physical stores in a modern omni-channel world is undeniable. Acquiring more than 450 large-footprint stores in the most important markets in the country gives Amazon a number of benefits, including:
Access to wealthy shoppers:

Whole Foods isn't nicknamed 'Whole Paycheck' for nothing. It's not cheap. But neither is Amazon Prime's $99 annual fee. Arguments for the value of organic food and free delivery are more easily made when expenses aren't as tightly managed. Whole Foods will help bring in the bigger spenders.

More customer data:

Amazon's bread and butter is learning about shoppers and providing recommendations based on that data; they'll have even more now. Amazon will understand consumers at a much deeper level, enabling them to personalise the experience, both online and in store, to an unprecedented degree.

Local distribution hubs:

These stores can act as distribution centres for online orders. They understand as well as anyone that speed equals money in online shopping. They are constantly innovating on ways to get products into consumer hands faster. Two-hour delivery just got a lot more reasonable for high-demand products in a massive number of markets.
The fact that Amazon chose to invest in physical stores by acquiring a grocer is not one they happened on by chance, either. Let's consider this in the context of personalised offers and recommendations. Food tastes vary about as much as any personal preference can. Beyond that, people shop completely differently for food – for families or themselves, weekly or daily, healthy or not so much – and knowing how to talk to each shopper can be incredibly useful.
By creating personalised messages for each consumer – from discounts to recipes to product recommendations – Amazon can use the power of its data analytics engine to do in-store what it already does online. Generating unique profiles for each shopper based on their actual purchase history will be one of the biggest goals for Amazon here. They've seen how successful it can be online, and what it's done for UK grocers like Waitrose, and they're chomping at the bit to take advantage themselves.
Our guess for how they'll actually get these messages to consumers is that the Amazon Go concept that removes the traditional checkout should be ready for a broad roll-out in the not-too-distant future. That technology will create a mobile-driven process in which consumers use a smartphone app to scan as they go and checkout with the touch of a button. Consumers get convenience; Amazon gets data. Consumers get digital receipts; Amazon sends personalised offers with them. Customers come back to take advantage of the offer; Amazon gets better data. The cycle repeats.
Amazon is a clear leader in understanding their customers and providing them with a tailored experience. Online lessons will apply to their physical store foray. Ultimately, this round will be scored a split decision – with both Amazon and its customers named the winners.