The point of sale represents a major investment for a retailer and is not a technology that is needlessly replaced. But the role the POS plays within the industry shouldn't be underestimated. It's a key touchpoint in the shopping journey, and a strong channel with which to engage customers. But it also has the potential to be so much more.
Engage with customers in real-time and keep them coming Back
With the right software, retailers can extend the functionality of the POS beyond just transaction management and use it to engage with all customers in real-time, forge better relationships with them and, importantly, keep them coming back.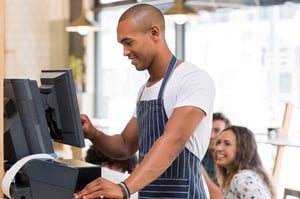 The POS is business critical so any unplanned downtime has a huge impact on the bottom line, with the potential for loss of both revenue and customer trust. As a result, retailers are loath to change things up and run the risk of a possible failure.
However, in a constantly shifting market with increased competition and ever-changing consumer demand, retailers need to innovate to keep pace with that change.
This could be as simple as capitalising on the technology already available to them.
POS software that requires no integration or changes to the POS itself
By deploying light-touch, cloud-based software that requires no integration and no changes to the POS itself, there is huge potential in using it as a channel with which to engage customers. By doing so, retailers can drive sales, boost customer engagement and enhance the customer experience.
Customer Data is Key
Retailers can capture data from every transaction in real-time, which can have multiple applications and benefits. Data captured at the POS can be collated to form a picture of a customer's purchase history in terms of spend, visit frequency, product categories purchased, as well as current basket contents.
This enables a retailer to build a complete and accurate picture of that customer — regardless of whether they are signed up to their loyalty scheme, or if the store even has one. This data can then be used to generate customer insights that inform personalised or targeted messages and offers, giving shoppers meaningful reasons to come back in-store.
Starting from a customer's first visit, data can be used to generate discounts, offers and value-adds at the POS that relate to shoppers' preferences and expectations. These can take the form of a paper coupon handed to the customer in store, or a personalised digital receipt, which becomes another touchpoint.
E-receipts also serve as a means to engage with customers and tempt them back into store with offers and content related to items purchased, or value-added content such as 'how-to' videos.
Time for change
The point of sale remains critical for retailers. And it's here that they will see the most value by transforming it into an additional marketing channel with which to engage customers and help improve the in-store experience.
Retailers need all the tools and tricks in their arsenal to tackle the challenges they face around driving footfall and customer retention. Transforming the POS and taking its functionality further is just one of these tools, but one that can add significant value to a retailer and boost the bottom line.
To find out how the point of sale can boost customer engagement and drive sales, download our new white paper: Turning the POS into a point of differentiation.