He only went and did it! OK, so it was a bit later than planned due to bad weather, but on Friday 13th September, Ecrebo founder, David Vernon, faced his fears and jumped out of a plane in aid of Launchpad, Reading's leading homelessness prevention charity. On a beautiful clear autumnal morning, he completed his 15,000 feet skydive at the Old Sarum airfield in Salisbury, Wiltshire, experiencing a 60-second ground rushing freefall at speeds of up to 125mph. Check out what that felt like here: https://vimeo.com/360239996

He was joined by Emma Sedgwick, our Financial Controller, who also bravely volunteered to jump. Between them, they've raised in excess of £1100 for Launchpad, and I'm hugely proud of what this daring duo have achieved. A big thank you to GoSkydive for helping to make the day run so smoothly and for bringing my team safely back to me in one piece!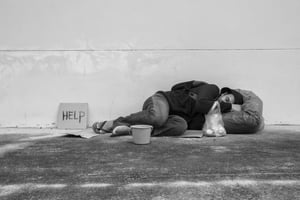 Homelessness is an all too familiar sight on the streets of Reading, and sadly, it's on the rise. That's why Ecrebo decided to support Launchpad, a local charity that provides vital information and support for individuals, couples and families who don't have a stable place to live or are at risk of losing their home. So far, the skydive volunteers have fundraised an impressive £6700 for Launchpad, but there's still more to be done.
This leads me on to our next challenge. Every year, Launchpad organises Big Sleep Out, a fundraising challenge where people swap the luxury of their home and a comfortable bed, for a cardboard box and a sleeping bag for the night – all to raise vital funds and help prevent homelessness. I've signed up to take part this year, and I've managed to convince some of my Ecrebo colleagues to join me!

Launchpad's Big Sleep Out is now in its 14th year and has raised over £200,000 to date. This year, the event is set to be bigger and better than ever and will take place in the iconic and historic Reading Abbey Ruins, just around the corner from our office. Amidst the backdrop of a Grade I listed ruin, it's set to be an event to remember, with entertainment, food and some yet-to-be revealed special guests. And this year, it coincides with World Homeless Day, taking place on Thursday 10th October.

I've chosen to sleep out for the night because it's a personal challenge and gives me the chance to raise money for charity at the same time. Plus, I have the reassurance of knowing the event is organised by a professional charitable organisation who have done it many times before. But in all seriousness, sleeping rough is the reality for thousands of homeless people across the country. It's a hardship they endure day in day out, whatever the weather. So, I hope you'll join me in either putting yourself forward to take on this challenge yourself, sponsoring me, or supporting Launchpad through another one of their fundraising initiatives.

Take part in Big Sleep Out
Do you have what it takes to sleep outside in the open this October? Here's your chance:
https://www.launchpadreading.org.uk/get-involved/our-events/big-sleep-out/

Please help me support Launchpad
Please donate whatever you can to help me raise money for Launchpad:
https://www.justgiving.com/fundraising/david-buckingham3

About Launchpad
To find out more about Launchpad and the vital work they do, visit their website: http://www.launchpadreading.org.uk/